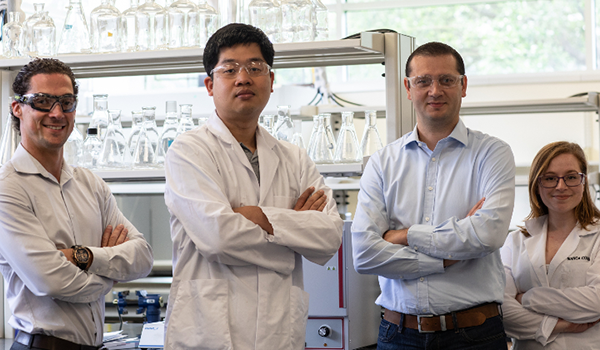 Companies Move to Houston, UH Technology Bridge
Oleon, a natural chemical company, is one of two companies that have landed at the UH Technology Bridge as they move into the Houston market.

Tom Campbell, executive director of the UH Office of Technology Transfer and Innovation, said the University is a natural landing spot for companies new to town, offering not just lab and office facilities at its research park on the Gulf Freeway but also potential partnerships with faculty and students research and internships.

Read more >
Roberto Ballarini, chairman of the department of civil and environmental engineering, is the recipient of the 2019 Raymond D. Mindlin Medal from the American Society of Civil Engineers (ASCE).
Noah Luecke, a Ph.D. student in biology, studies how the microbes found in soil affect a plant's ability to thrive under different rainfall conditions. Luecke is the recipient of a one-year, $8,000 Texas Ecolab grant, which will fund a field study looking at various sites.
Brendon Hillebrand is the recipient of a Fulbright Scholarship. He will serve as an English Teaching Assistant in Taiwan. The UH Office of Undergraduate Research celebrated a record-breaking year in 2018-19, with 10 outstanding students receiving Fulbright awards for research and teaching, the most awarded in any given year in the school's history.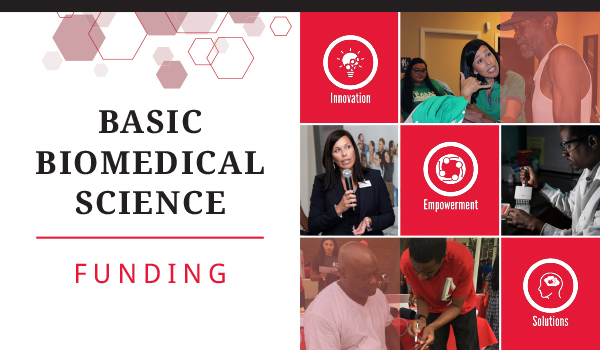 HRI REQUEST FOR APPLICATIONS
The HEALTH Research Institute was established at the University of Houston in September 2016 to address the health challenges faced by our communities by leveraging transdisciplinary team science to provide innovative, empirically-grounded, culturally-informed and community-embedded solutions. Ultimately, our goal is to become a model for advancing transdisciplinary health science through strong partnerships with communities, organizations, and other key stakeholders.

The purpose of the pilot research program is to strategically seed feasibility and proof of concept studies that will lead to the development of novel findings that address one or more health challenges faced by our local, state, or national communities. This request for pilot project applications is intended to expand the HEALTH Research Institute in the area of basic biomedical science.

Read More
HPE Data Science Institute Home Building Officially Receives New Name
On April 26, the Multidisciplinary Research and Engineering Building officially received a new name. It is now known as the Durga D and Sushila Agrawal Engineering Research Building after prominent, long-time Houstonians and supporters of the University of Houston.

Read More
View past announcements on the Division of Research website.
Organic Acids as Agents to Dissolve Calcium Minerals in Pathological Calcification and Uses Thereof
Inventors: Jeffrey D. Rimer, Jihae Chung, John Asplin
Department: Chemical Engineering
Date Issued: May 14, 2019
Patent Number: 10,285,961
---
Graphitic Nanocomposites in Solid State Matrices and Methods for Making Same
Inventors: Seamus Curran, Kang-Shyang Liao, Alexander Wang
Department: Physics
Date Issued: March 26, 2019
Patent Number: 10,240,010
---
Method for Measuring Physiological Parameters of Physical Activity
Inventors: Luca Pollonini, Clifford C. Dacso
Department: Engineering Technology
Date Issued: May 21, 2019
Patent Number: 10,292,629
---
Rank-Based Score Normalization Framework and Methods for Implementing Same
Inventors: Panagiotis Moutafis, loannis A. Kakadiaris
Department: Computer Science
Date Issued: February 27, 2019
Patent Number: 10,235,344
OPUS: MCS: THE IMPORTANCE OF MITOCHONDRIAL AND STRUCTURAL MUTATIONS IN GENERATING FITNESS VARIANCE IN THE CILIATE TETRAHYMENA
PI/Department: Rebecca A. Zufall, Biology & Biochemistry
Sponsor: National Science Foundation
Amount: $271,696
---
MOLECULAR ENGINEERING OF THE SECOND COORDINATION SPHERE FOR CONTROLLED OLEFIN POLYMERIZATION CATALYSIS
PI/Department: Loi H. Do, Chemistry
Sponsor: The Welch Foundation
Amount: $240,000
---
CORRELATING PHOTOCATALYTIC AND PHOTOELECTROCHEMICAL ACTIVITY OF COBALT OXIDES WITH DYNAMICS OF PHOTO-EXCITED ELECTRONS AND HOLES
PI/Department: Jiming Bao, Electrical Engineering
Sponsor: The Welch Foundation
Amount: $240,000
---
PD(II)- AND NI(II)-CATALYZED OLEFIN POLYMERIZATIONS AND COPOLYMERIZATIONS
PI/Department: Maurice Brookhart, Chemistry
Sponsor: The Welch Foundation
Amount: $240,000
---
ELECTROCHEMISTRY AND SPECTROELECTROCHEMISTRY OF COMPOUNDS WITH MULTIPLE REDOX CENTERS
PI/Department: Karl M. Kadish, Chemistry
Sponsor: The Welch Foundation
Amount: $240,000
---
MAIN GROUP CATALYSTS FOR ADVANCED AND SUSTAINABLE POLYMERS
PI/Department: Robert Joseph Comito, Chemistry
Sponsor: The Welch Foundation
Amount: $195,000
---
PLANT-BASED ANTIBIOTIC NANOCARRIERS INVESTIGATION IN THE SIMULTANEOUS REDUCTION OF PATHOGEN MUTATION RATES AND INTESTINAL INFECTIONS IN HUMANS
PI/Department: Debora Frigi Rodrigues, Civil Engineering
Sponsor: The Welch Foundation
Amount: $195,000
---
NOVEL SYNTHETIC METHODS IN ORGANIC CHEMISTRY DERIVED FROM HIGHLY REACTIVE REACTIVE INTERMEDIATES
PI/Department: Jeremy A. May, Chemistry
Sponsor: The Welch Foundation
Amount: $195,000
---
SYNTHESIS OF GOLD COMPOUNDS WITH UNUSUAL OXIDATION STATES AND METALLOAROMATICITY
PI/Department: Jakoah Brgoch, Chemistry
Sponsor: The Welch Foundation
Amount: $195,000
---
DEVELOPING LOCALLY BIOAVAILABLE DRUGS TO INHIBIT ELEVATED PGE2 PRODUCTION IN THE COLON
PI/Department: Ming Hu, Pharmacological & Pharmaceutical Sciences
Sponsor: Texas Southern University flow thru from National Institute of General Medical Sciences
Amount: $183,600
---
SCENARIO-BASED EXPLORATION OF "CHANGES IN DEMAND FOR HIGHER EDUCATION"
PI/Department: Andrew Lewis Hines, Human Development and Consumer Sciences
Sponsor: Rowan University
Amount: $30,130
Featured Funding Opportunities
Funding Agency: American Diabetes Association
Title: Pathway to Stop Diabetes
Internal Deadline: 5/28/19
Nomination Deadline: 7/1/20
Pathway seeks to bring new investigators and new perspectives to diabetes research. Supporting scientists with different backgrounds and experience is critical to achieving that objective. Pathway accepts nominations for exceptional investigators with medical and scientific backgrounds who propose innovative basic, clinical, translational, behavioral, epidemiological and health services research relevant to any type of diabetes, diabetes-related disease state or complication.

Pathway solicits nominations for candidates in all disciplines as applied to diabetes including medicine, biology, chemistry, computing, physics, mathematics and engineering. In addition, nomination of scientists from diverse backgrounds, including minority groups that are underrepresented in biomedical research, is strongly encouraged. Funding categories include: transition-to-independence Initiator (INI); early career Accelerator (ACE); and senior Visionary (VSN) awards. Limited Submission Applications are submitted through this Sharepoint site.
Funding Agency: Pew Trusts
Title: Pew Biomedical Scholars
Internal Deadline: 5/23/19
Nominations Deadline: 6/14/19
The Pew Trusts have opened their annual solicitation to select new Biomedical Scholars. Based on their performance during their education and training, candidates should demonstrate outstanding promise as contributors in science relevant to human health. Strong proposals will incorporate particularly creative and pioneering approaches. Candidates whose work is based on biomedical principles, but who bring in concepts and theories from more diverse fields, are encouraged to apply. Ideas with the potential to produce an unusually high impact are encouraged.

Selection of the successful candidates will be based on a detailed description of the work that the applicant proposes to undertake, evaluations of the candidate's performance, and notable past accomplishments, including honors, awards, and publications. In evaluating the candidates, the National Advisory Committee gives considerable weight to evidence that the candidate is a successful independent investigator and has published significant work. Limited Submission Applications are submitted through this Sharepoint site.
Funding Agency: Brain Research Foundation
Title: Scientific Innovations Award
Internal Deadline: 5/24/19
LOI Deadline: 6/25/20
Brain Research Foundation (BRF) Annual Scientific Innovations Award supports innovative discovery science in both basic and clinical neuroscience. This funding mechanism is designed to support creative, cutting edge research in well-established research laboratories, under the direction of established investigators.

This funding opportunity is for projects that may be too innovative and speculative for traditional funding sources but still have a high likelihood of producing important findings in a very short time frame. It is expected that investigations supported by these grants will yield high impact findings and result in major grant applications and significant publications in high impact journals. Limited Submission Applications are submitted through this Sharepoint site.
Funding Agency: NIST
Title: NIST Public Safety Innovation Accelerator Program - Mission Critical Voice Test Equipment
Application Deadline: 7/19/19
The NIST Public Safety Innovation Accelerator Program: Mission Critical Voice Test Equipment (PSIAP-MCVTE) is seeking applications from eligible applicants for activities to develop test equipment and associated code required to test communications devices, based on 3rd Generation Partnership Project (3GPP) standards, for mission critical push-to-talk technology (MCPTT) and related public safety features such as Mission Critical Data (MCData) and Mission Critical Video (MCVideo).
Funding Agency: Department of State
Title: Filling Gaps in Air Quality Data
Proposal Deadline: 7/8/19
The purpose of the "Filling Gaps in Air Quality Data" project is to bridge extensive air quality monitoring data gaps and empower developing countries to take immediate steps to improve air quality. Generating and maintaining reliable data to identify key sources of air pollution will inform and enhance countries' capacity to establish and implement data-based air quality management policies.

The project will assist two to three selected countries in deploying low-cost air quality monitoring equipment in locations where performance can be compared to the most accurate air quality monitors, such as those already installed at U.S. diplomatic posts. Co-locations like these will maximize opportunities for collaboration and leverage existing resources toward improvement of air quality management policies.
Funding Agency: Department of Defense
Title: Undersea Warfare Long Range Development Broad Agency Announcement
Proposal Deadline: continuous submission
The Naval Undersea Warfare Center Division, Keyport is soliciting research of interest in support of long range undersea warfare needs. The topics of interest include: AI in unmanned underwater vehicles (UUVs); novel methods for predictive analysis of UUVs; expanding capabilities of undersea warfare (USW) tactical decision making via machine learning and AI; ML and AI methods to identify anomalies in large data sets; innovative methods for autonomous predictive maintenance; methods for mitigating hardware obsolescence in test equipment; data analysis methods for maintenance activity logs; acoustic measurements and characterization; novel methods for assessment of enhanced multi-use mixed reality user interfaces; innovative design methodologies for propellers; methods to test autonomy in UUVs; methods for advanced software development; evaluate fault tolerance strategies in large sensor arrays; sensing and recording methods for specific environmental conditions; and methods to reduce hazards from electromagnetic radiation to ordnance.
Funding Agency: Department of Energy
Title: Industry Partnerships for Cybersecurity of Energy Delivery Systems Research, Development, and Demonstration
Application Deadline: 7/8/19
The objective of this Announcement is to enhance the reliability and resilience of the energy infrastructure through innovative research, development and demonstration cybersecurity solutions. This Announcement includes three topic areas. Topic Area 1 is Real Time Intrusion for Energy Delivery Control Systems. Topic Area 2 is Self-Healing Energy Delivery Control Systems. Topic Area 3 is Innovative Technologies that Enhance Cybersecurity in the Energy Sector.
Funding Agency: NASA
Title: EARLY STAGE INNOVATIONS
NOI Deadline: 5/29/19
Proposal Deadline: 6/26/19
The National Aeronautics and Space Administration (NASA) Headquarters has released a solicitation, titled Early Stage Innovations (ESI), as an appendix to the Space Technology Mission Directorate (STMD) umbrella NASA Research Announcement (NRA) titled "Space Technology Research, Development, Demonstration, and Infusion 2019 (SpaceTech-REDDI-2019), on May 8, 2019. STMD, and the Space Technology Research Grants (STRG) Program in particular, seek proposals from accredited U.S. universities to develop unique, disruptive, or transformational space technologies that have the potential to lead to dramatic improvements at the system level — performance, weight, cost, reliability, operational simplicity, or other figures of merit associated with space flight hardware or missions.

Although progress under an award may be incremental, the projected impact at the system level must be substantial and clearly defined. The Appendix exclusively seeks proposals that are responsive to one of the six topics: Rotating Detonation Rocket Engine Concept Development; Chemical Heat Integrated Power Systems; Rocket Plume-Surface Interaction Prediction Advancements; Machine Learning/Deep Learning Tools for Protecting Astronauts from Solar Energetic Particle Hazards; Next Generation Durability and Damage Tolerance Methodologies; and Integration of Cryogenic Fluid Two Phase Numerical Modeling Techniques.
Funding Agency: Department of Defense
Title: Research for Integrated Vehicle Aerodynamic Technologies (RIVAT)
White Paper Deadline: continuous submission
The Aerospace Vehicles Division (RQV), Aerospace Systems Directorate (RQ), Air Force Research Laboratory (AFRL) conducts vehicle aerodynamic research in the following areas: fundamental and applied fluid dynamics; aircraft design and system enhancements; flow control applications; weapons integration and cavity flow; propulsion integration; aero-optics interactions; and technology applications and operational analysis.
Funding Agency: Department of Energy
Title: FY19 Advanced Manufacturing Office Multi-Topic FOA
Concept Paper Deadline: 6/20/19
Application Deadline: 8/29/19
This funding opportunity announcement (FOA) supports federal investment in innovative, early-stage advanced manufacturing applied research and development (R&D) projects that focus on specific high-impact manufacturing technology, materials, and process challenges. The topics are aimed at foundational energy-related advanced manufacturing technologies that impact areas relevant to manufacturing processes (where energy costs are a determinant of competitive manufacturing) and broadly applicable platform technologies (the enabling base upon which other systems and applications can be developed). The competitively selected projects will focus on developing next-generation manufacturing material, information, and process technologies that improve energy efficiency in energy intensive and energy dependent processes. With this FOA, the Advanced Manufacturing Office (AMO) intends to fund high-impact, early to mid-stage research in the following topic areas:

Topic 1: Innovations for the Manufacture of Advanced Materials: Subtopic 1.1: Accelerate the Manufacturing Process Design and Development Cycle for Advanced Energy Conversion and Storage Materials; Subtopic 1.2: Innovative Manufacturing Processes for Battery Energy Storage; Subtopic 1.3: Materials and Manufacturing Process Development of Nanocrystalline Metal Alloys Subtopic 1.4: Process-Informed Science, Design, and Engineering of Materials and Devices Operating in Harsh Service Conditions

Topic 2: Lower Thermal Budget (LTB) Processes for Industrial Efficiency & Productivity: Subtopic 2.1: Advances in Industrial and Process Drying; Subtopic 2.2: Thermal Process Intensification

Topic 3: Connected, Flexible and Efficient Manufacturing Facilities and Energy Systems: Subtopic 3.1: Medium-Voltage Power Conditioning Systems to Enable Grid-Dispatchable and Resilient Manufacturing Facilities; Subtopic 3.2: High Power to Heat Ratio, High Efficiency Combined Heat and Power (CHP); Subtopic 3.3: Verification and Validation of CHP and District Energy.
Funding Agency: USDA
Title: Agriculture and Food Research Initiative - Foundational and Applied Science
Deadline: LOI and application dates vary; see RFA
The AFRI Foundational and Applied Science Program supports grants in six AFRI priority areas to advance knowledge in both fundamental and applied sciences important to agriculture. The six priority areas are: Plant Health and Production and Plant Products; Animal Health and Production and Animal Products; Food Safety, Nutrition, and Health; Bioenergy, Natural Resources, and Environment; Agriculture Systems and Technology; and Agriculture Economics and Rural Communities. Research-only, extension-only, and integrated research, education and/or extension projects are solicited in this Request for Applications (RFA).
Funding Agency: Renewable Natural Resources Foundation
Title: Awards for Achievements in the Renewable Resources Fields
Nominations Deadline: 5/31/19
RNRF has three annual awards to recognize outstanding achievements in the renewable resources fields. Two of the awards—established in 1992—were the first awards to honor interdisciplinary achievements with an emphasis on the application of sound scientific practices in managing and conserving renewable natural resources. The Sustained Achievement Award recognizes a long-term contribution and commitment to the protection and conservation of natural resources by an individual.

The Outstanding Achievement Award recognizes a project, publication, piece of legislation, or similar concrete accomplishment that occurred during the three years prior to nomination for the award. Visual media such as films or videos, and technical publications such as reference books and proceedings are eligible for this award. RNRF's Excellence in Journalism Award, established in 2001, honors and encourages excellence in journalism about natural resources. RNRF seeks to advance public education and understanding of important natural resource issues through the dissemination of accurate and scientifically-based information about the environment. The award recognizes work by an individual, group, or organization for both print and digital media (such as an on-line report, or article/feature in a newspaper, magazine, journal, or newsletter).
Funding Agency: Society of Manufacturing Engineers
Title: Award of Merit
Internal Deadline: 6/6/19
Nomination Deadline: 8/1/19
Since 1958, this award has been bestowed on outstanding SME members who, in the judgment of the International Awards & Recognition Committee, have made valued, balanced contributions to SME's professional activities and growth. Only one nomination can be submitted from an SME chapter or Technical Community per calendar year and should clearly indicate that the nomination has the approval of the group involved. Limited Submission Applications are submitted through this Sharepoint site.
Funding Agency: Howard Hughes Medical Institute
Title: Inclusive Excellence 3
Internal Deadline: 5/30/19
Intent to Apply Deadline: 7/31/19
Pre-proposal Deadline: 1/14/20
The Howard Hughes Medical Institute announces a new competition in the Inclusive Excellence (IE) initiative for institutional transformation grants in science education. The objective of the HHMI IE initiative is to challenge U.S. colleges and universities to substantially and sustainably increase their capacity for inclusion of all students, especially those students who belong to groups underrepresented in science. Limited Submission Applications are submitted through this Sharepoint site.
For more information about available grants, visit our Pivot system or Grants.gov.