Dear Faculty, Staff, and Students:
Welcome back and Happy New Year!
I hope you are all as excited about the start of our spring semester as I am. Yes, we are still facing a number of challenges associated with the pandemic, but we are also bringing considerable resources to bear that have allowed us to stay safe and maintain our educational focus.
Our students continue to make solid academic progress, thanks to the near-herculean efforts of our committed faculty and staff — and, of course, the diligence of the students themselves. This has truly been an admirable accomplishment and embodies the spirit of resilience that has characterized the University of Houston throughout this demanding period. I thank each and every one of you for your efforts, both individual and collective. Student success, whether it's the product of face-to-face classes or remote instruction, clearly remains our top priority.
It is also heartening to see that our research endeavors have not flagged and we continue to expand our national and international reputation in such crucial fields as energy and health while increasing our research expenditures significantly.
As an institution, we have acknowledged the troubling complications of social injustice that have roiled the country and responded responsibly with academic inquiry and community engagement.
All told, UH has been doing its best under less than ideal conditions. I hope you take satisfaction in realizing how much we have accomplished together despite the medical, financial, and logistical complications. UH's mission statement calls for us to connect potential with opportunity and I believe you have all played a vital role in meeting that objective.
I am confident that we will continue to do so this spring.
Will there be problems? No doubt. But there will also be solutions. Students, make sure you work with your academic advisers, talk to your professors, reach out to Financial Aid and, if you are feeling troubled, consider consulting Counseling and Psychological Services. Faculty and Staff, ask Human Resources for assistance and reach out to Staff Council or Faculty Senate for advice. There is more help and support available than you may realize.
In closing, allow me to share this rousing performance of "Cielito Lindo" by the Mariachi Pumas, UH's very own Mexican musical ensemble — and a spirited reminder of the many forms that Student Success can take.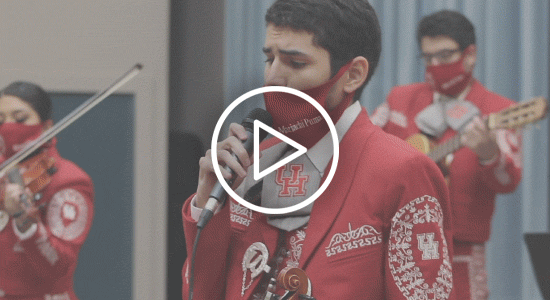 Warm regards,