Greetings Grads,
We wanted to let you all know about an exciting photo opportunity we have set up for the class of 2020. The Office of Protocol and Special Events is putting together three photo locations for you to come take pictures in your graduation regalia. The photo ops will run from Monday, December 14 – Saturday, December 19, 2020, 10:00 a.m. to 5:00 p.m. These photo sites will be decorated with balloons, UH banners and even a mock commencement stage! So grab your camera and someone to take pictures for you and come on out. No need to make an appointment, but please remember to practice social distancing and wear your mask.
The locations for each of these photo ops are listed below.
Student Center South – Monumental Stairway
University of Houston Seal
Cullen Family Plaza
We have included a campus map that notates these locations for your convenience.
The link to view the University-Wide Commencement can be found at www.uh.edu/commencement and will become active on December 17, 2020. The links for the college graduation celebrations will be posted in the coming days.
Please email director@uh.edu if you have any questions.
Congratulations and Go Coogs!
The Grad Squad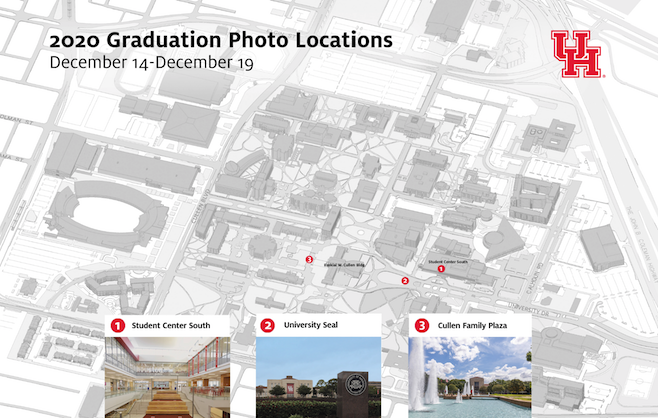 ---
Tonja A. Jones
Executive Director
University of Houston
Office of Protocol and Special Events
4302 University Drive, Suite 111
Houston, TX 77204-2025
Phone: 713.743.8838 │ Mobile: 281.788.0372 │ Fax: 713.743.8167
E-mail: tajones@uh.edu
www.uh.edu/special-events