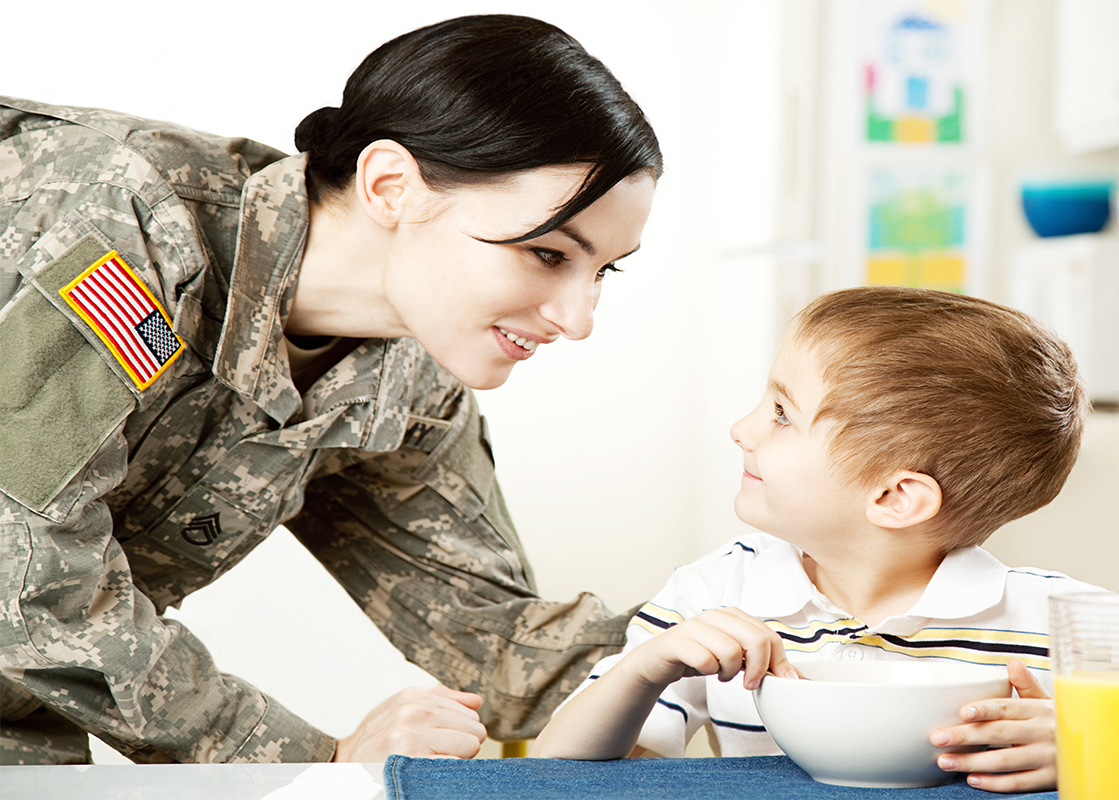 Impact of Food Insecurity on Parent Veterans and Their Children
Veterans are twice as likely to lack regular access to sufficient quantities of affordable, nutritious food compared to the general U.S. population. Nearly one in four veterans is food insecure. For veterans who are also parents, this can have lasting effects on their children.

In an effort to develop interventions to help these families thrive, UH has launched a new study to identify veterans' barriers to food.
Read more >
Milena Keller-Margulis and Sarah Mire, professors of school psychology, have received a Spencer Foundation grant for a pioneering project to develop effective methods to measure the academic skills of students with autism spectrum disorder.
A group of scientists have set out in search of clues to the West Antarctic Ice Sheet's history. Drilling kilometre long sediment and rock cores in water thousands of metres deep, they are attempting to determine the age of what they are looking at in order to track Antarctica's glacial history.
Kaoji Xu, a recent Ph.D. graduate in computer science, focuses on creating volumetric meshes, which can be used to predict the internal forces, stresses and other physical properties throughout the entire volume of an object.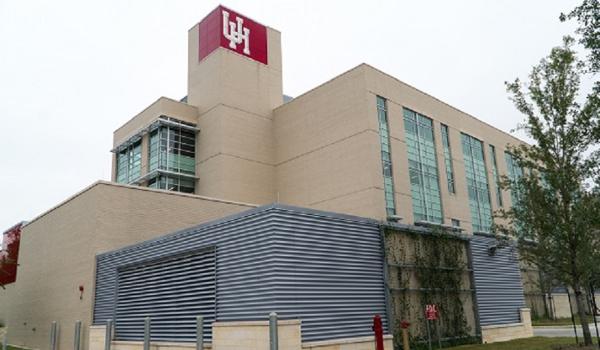 2019 CACDS Summer Training Courses
The Spring semester is coming to an end, but that doesn't mean opportunities to learn more about high performance computing stops. We are happy to inform you about our summer training series. Our courses are offered for free to the UH community; however, participants must register through the course management system.

Read More
Metal 3D Printing Technology Open House
Technology Bridge's newest addition, Saratech, hosted a metal 3D printing technology open house on Wednesday, May 15th.

"Saratech is Siemens and HP's number one partner in the Americas. We offer a variety of technologies to make sure we can fit a customer's need, as opposed to trying to shoehorn an application into a particular technology. We offer Bigrep, Markforged, HP, and UnionTech," explained Jeff Rickey, Saratech's national sales manager. Read more
UH-Based SurfEllent Snatches Second Place
A big congratulations goes out to UH Technology Bridge-based startup, SurfEllent, which won second place at the Texas A&M New Ventures Competition, earning a $35,000 prize. Read more
View past announcements on the Division of Research website.
Featured Funding Opportunities
Funding Agency: HHS
Title: Disability and Rehabilitation Research Projects (DRRP) Program: Independent Living Transition Services for Youth and Young Adults with Significant Disabilities from Minority Backgrounds
Application Deadline: 8/12/19
The purpose of the Disability and Rehabilitation Research Projects (DRRP), funded through the Disability and Rehabilitation Research Projects and Centers Program, is to plan and conduct research, demonstration projects, training, and related activities, including international activities, to develop methods, procedures, and rehabilitation technology that maximize the full inclusion and integration into society, employment, independent living, family support, and economic and social self-sufficiency of individuals with disabilities, especially individuals with the most severe disabilities, and to improve the effectiveness of services authorized under the Rehabilitation Act of 1973, as amended (Rehabilitation Act).

This particular DRRP priority is a joint-funding collaboration between the National Institute on Disability, Independent Living, and Rehabilitation Research (NIDILRR) and the Independent Living Administration (ILA), both within the Administration for Community Living (ACL). The DRRP grant to be made under this priority will conduct research to generate evidence-based practices for services provided by Centers for Independent Living (CILs) to facilitate the transition of youth with significant disabilities from racial and ethnic minority backgrounds who were eligible for individualized education programs and who have completed their secondary education or otherwise left school.

Applicants under this priority must propose to conduct research to: (1) systematically identify promising practices for facilitating the transition of youth and young adults with significant disabilities from minority backgrounds, (2) develop at least two manualized transition interventions for youth and young adults with significant disabilities from minority backgrounds, and (3) assess the feasibility and efficacy of the transition interventions for youth and young adults with significant disabilities from minority backgrounds.
Funding Agency: USDA
Title: USDA WIC Telehealth Innovations Project
LOI Deadline: 6/25/19
Application Deadline: 6/29/19
This is an announcement of the availability of funds for one new cooperative agreement for FY 2019-2024 with a public or private academic research institution. In this funding cycle, the USDA anticipates awarding up to $8,500,000 in grant funding to support the implementation and evaluation of telehealth services in WIC. The majority of these funds, $5,000,000, shall be awarded as sub grants through a competitive process to WIC State Agencies1 for the purpose of implementing telehealth innovations that supplement the nutrition education and breastfeeding support offered in the WIC clinic.

The recipient of this cooperative agreement, referred to in this document as the Grantee, will carry out the competitive award process to select sub-grantees, design and conduct evaluations of each sub-grantee's telehealth innovation project, and produce reports and publications to disseminate the findings.
Funding Agency: USDA
Title: Conservation Innovation Grants – Texas
Application Deadline: 7/31/19
The purpose of CIG is to stimulate the development and adoption of innovative conservation approaches and technologies in conjunction with agricultural production. CIG projects are expected to lead to the transfer of conservation technologies, management systems, and innovative approaches (such as market-based systems) to agricultural producers, into NRCS technical manuals and guides, or to the private sector. CIG generally funds pilot projects, field demonstrations, and on-farm conservation research.
Funding Agency: National Science Foundation
Title: Opportunities for Promoting Understanding through Synthesis
Proposal Deadline: 8/28/19
The OPUS program seeks to provide opportunities for mid- to later-career investigators to develop new understanding of science in the fields supported by the Division of Environmental Biology (DEB) through two tracks of synthesis activities. OPUS: Mid-Career Synthesis. This track aims to provide a mid-career researcher, defined as a candidate at the associate professor rank (or equivalent), with new capabilities to enhance their productivity, improve their retention as a scientist, and ensure a diverse scientific workforce that remains engaged in active research(including more women and minorities at high academic ranks).

This track provides an opportunity for the mid-career scientist to enable a new synthesis of their ongoing research. Synthesis is achieved by developing new research capabilities through collaboration with a mentor to enable new understanding of the research system and questions of interest. OPUS: Core Research Synthesis. This track provides an opportunity for an individual or a group of investigators to revisit and synthesize a significant body of their prior research in a way that will enable new understanding of their research system and questions of interest.

This track would also be appropriate early enough in a career to produce unique, integrated insight useful both to the scientific community and to the development of the investigator's future career. All four clusters within the Division of Environmental Biology (Ecosystem Science, Evolutionary Processes, Population and Community Ecology, and Systematics and Biodiversity Science) encourage the submission of these proposals enabling researchers to expand understanding and develop new insights in their research.
Funding Agency: National Science Foundation
Title: International Research Experiences for Students
Application Deadline: 9/24/19
The International Research Experiences for Students (IRES) program supports international research and research-related activities for U.S. science and engineering students. The IRES program contributes to development of a diverse, globally-engaged workforce with world-class skills. IRES focuses on active research participation by undergraduate or graduate students in high quality international research, education and professional development experiences in NSF-funded research areas. The overarching, long-term goal of the IRES program is to enhance U.S. leadership in research and education and to strengthen economic competitiveness through training the next generation of research leaders.

This solicitation features three mechanisms; proposers are required to select one of the following tracks to submit their proposal. Track I focuses on the development of world-class research skills in international cohort experiences. Track II is dedicated to targeted, intensive learning and training opportunities that leverage international knowledge at the frontiers of research.

Track III supports U.S. institutional collaborations to develop, implement and evaluate innovative models for high-impact, large-scale international research and professional development experiences for U.S. graduate students. Student participants supported by IRES funds must be citizens, nationals, or permanent residents of the United States. Students do not apply directly to NSF to participate in IRES activities. Students apply to NSF-funded investigators who receive IRES awards.
Funding Agency:National Science Foundation
Title: Critical-Zone Collaborative Network
Internal Deadline: 10/3/19
Proposal Deadline: 12/2/19
NSF seeks proposals to establish an adaptive and responsive research network that supports investigations of the Earth's Critical Zone. This network will consist of two components that will work together to advance knowledge, education, and outreach in this convergent science:1) Thematic Clusters of fixed or temporary locations will conduct basic research on significant, overarching scientific questions concerning the structure, function, and processes of the Critical Zone.

These U.S.-based Clusters could include existing observatories engaged in collecting environmental data, other monitoring locations that have been in operation for extended periods of time, and new sites that will support the scientific goals of the Cluster;2) A Coordinating Hub that will oversee the compatibility and archiving of the data resulting from the Thematic Clusters, coordinate outreach and community-building activities, support the use of network facilities by outside researchers, and plan for infrastructure needs of the network. This solicitation invites proposals for either of the two components: 1) Thematic Cluster or 2) Coordinating Hub.

The Thematic Clusters will carry out interdisciplinary research on scientific questions and manage part of the network infrastructure; the Coordinating Hub will serve as the national center for the network. The infrastructure of the network will be accessible to other research teams pursuing research in the Critical Zone. Limited Submission Applications are submitted through this Sharepoint site.
Funding Agency: NASA
Title: ROSES 2019: Sea Level Change Science Team
NOI Deadline: 9/26/19
Proposal Deadline: 10/31/19
Rising seas are one of the most disruptive consequences of climate change, impacting highly-populated coastal communities through an increased occurrence and intensity of flooding events, storm surges, coastal erosion, salt-water intrusion, losses of biodiversity and freshwater resources. Understanding the physical processes behind these changes is key to predicting the potential impact of rising seas and extreme events on coastal communities, the national and global economy, and is recognized as one of the Grand Challenges of our time by the World Climate Research Programme (WCRP). To address this challenge, NASA has assembled a multi-disciplinary Sea Level Change Science Team (N-SLCT) consisting of leading experts in the fields of oceanography, geodesy, cryosphere, hydrology, modeling, statistics, and science communication.

Multiple NASA science programs have contributed to various aspects of this research including programs in Physical Oceanography, Cryospheric Sciences, Interdisciplinary Sciences, Earth Surface and Interior, and Earth Science Data and Information System (ESDIS).

Since 2014, the N-SLCT has been conducting interdisciplinary sea level science by collecting and analyzing observational evidence of sea level change, quantifying the underlying causes and driving mechanisms, producing projections of future changes in sea level, as well as communicating NASA's latest discoveries to the public through NASA's Sea Level Portal at https://sealevel.nasa.gov. As a result, progress has been made on a number of important problems in sea level science, resulting in a better understanding of ice sheet dynamics, the development of tools and assessments of the impacts of mass loss from ice sheets and glaciers on coastal cities, and improved representation of vertical land motion related to coastal subsidence, tectonics, and Earth's post-glacial rebound.
Funding Agency: Department of Defense
Title: Materials Science in Extreme Environments University Research Alliance (MSEE-URA)
LOI Deadline: 6/21/19
Phase 1 Proposal Deadline: 7/17/19
DTRA is seeking to develop the capability to understand material properties and associated mechanisms in various extreme environments that may lead to future exploitation. The approach is to realize a materials and properties capability by establishing a new University Research Alliance (URA) focused on Materials Science in Extreme Environments (MSEE). The focus of the MSEE-URA will be to advance the fundamental understanding of various material properties and mechanisms in non-equilibrium high pressure, high temperature, and high photon number regimes.

The foundational problem to be addressed by the MSEE-URA is the lack of knowledge and predictive modeling capability for various material classes and their associated formation/decomposition mechanisms within harsh Weapons of Mass Destruction (WMD)- related environments. That lack of knowledge poses a challenge in the ability to control and exploit future material-WMD interactions. To address this problem, the MSEE-URA seeks proposals focusing on understanding, controlling, characterizing, and predicting interactions of materials in extreme pressure, temperature, and optical environments.
Funding Agency: Department of Defense
Title: Interaction of Ionizing Radiation with Matter University Research Alliance (IIRM-URA)
LOI Deadline: 6/21/19
Phase 1 Deadline: 7/17/19
Recent advancements in materials science make studies on how ionizing radiation interacts with new materials an ideal area for DTRA basic research investment. Improved understanding will advance the state of the art for radiation detectors, survivability of Department of Defense (DoD) systems, and military functionality following a nuclear event. Some of the overall goals of the science would be to enable: radiation sensing from multiple platforms; cost effective hardening and hardness testing of DoD systems; and safe and efficient military operations in a nuclear environment.
Funding Agency: NASA
Title: University Leadership Initiative 2 (ULI2)
Step A Proposal Deadline: 8/27/19
University Leadership Initiative 2 (ULI2) provides the opportunity for university teams to exercise technical and organizational leadership in proposing unique technical challenges in aeronautics, defining multi-disciplinary solutions, establishing peer review mechanisms, and applying innovative teaming strategies to strengthen the research impact. Research proposals are sought in eight ULI2 topic areas in Appendix D.4. Topic 1: Safe, Efficient Growth in Global Operations (Strategic Thrust 1) Topic 2: Innovation in Commercial Supersonic Aircraft (Strategic Thrust 2) Topic 3: Subsonic Transport (Strategic Thrust 3a) Topic 4: Civil Aircraft that Incorporate Vertical Lift Capability (Strategic Thrust 3b) Topic 5: Transition to Alternative Propulsion and Energy (Strategic Thrust 4) Topic 6: Real-Time System-Wide Safety Assurance (Strategic Thrust 5) Topic 7: Assured Autonomy for Aviation Transformation (Strategic Thrust 6) Topic 8: Materials and Structures for Next-Generation Aerospace Systems.
Funding Agency: NEA
Title: NEA Research Labs, FY2020
Internal Deadline: 6/3/19
Nomination Deadline: 6/30/19
NEA Research Labs are intended to serve as "hubs" or centers of excellence in the domain of interest. Each NEA Research Lab will develop a pipeline of projects or products, even while conducting at least one major study. In addition, NEA Research Labs will be positioned to fulfill ad hoc analyses or information requests concerning the research agenda being pursued, as may be required during the project period of performance. Such requests will not involve new data collection. Priority will be given to applications that show capacity to design and implement a series of studies based on theory-driven research questions and methodologies that will yield important information about the impact of the arts within the selected topic area.

Research methodologies may include such approaches as quasi-experimental or experimental designs, or analyses that use primary and/or secondary data. Competitive applications will take into account any extant research that serves as a basis for a theoretical framework and helps to motivate the proposed studies. We also welcome novel and promising research approaches, such as rigorous analyses of organizational or social networks, and/or social media data, and statistically driven meta-analyses. In addition, we are interested in translational research that moves scientific evidence toward the development, testing, and standardization of new arts-related projects, models, tools, or techniques that can be used easily by other practitioners and researchers. Limited Submission Applications are submitted through this Sharepoint site.
For more information about available grants, visit our Pivot system or Grants.gov.