Dear Faculty:
First and foremost, I hope you and your loved ones are healthy and safe. These are unprecedented times and the many professional and personal challenges we all currently face are trying and difficult. In the midst of the truly universal impact of COVID-19 on our campus community, our nation, and the world, I am deeply impressed with how each of you has faced the many challenges of rapidly transitioning to online teaching while showing an extraordinary level of commitment to your students. In one week, you transitioned over 6,500 course sections to an online format while simultaneously learning to use a range of new tools and processes. Each day brings new challenges, and each day you continue to rise to meet them. I am grateful for your tenacity and resilience, without which I know it would be impossible to continue our primary mission: educating our students.
The current circumstances have required us all to make many changes in the way we work, teach, and advance our research. Thus, I want to ensure that the Office of the Provost continues to provide the help and support you need as a faculty member to remain up-to-date on policy changes and new opportunities for assistance and resources. Going forward, I will be sending regular newsletters to you that include information on topics in which the faculty has expressed an interest, including web links to policy updates and FAQs, specific dates and times for virtual office hours with my senior staff, and announcements of online opportunities for self-care through the FED and the ADVANCE Center.
Over the past two weeks, through our shared governance process, and in close collaboration with the Faculty Senate, we have implemented a range of policy changes to lessen the frustration and concern of both our students and our faculty in these challenging times. In this newsletter, I want to focus on those policy changes and announce dates and times for virtual office hours to afford you the opportunity to have your specific questions addressed personally.



Undergraduate Students
As our students may be facing a number of challenges associated with our transition to online classes, it is critically important that we identify and engage with those students who have not yet responded, or otherwise made contact, since we began our remote instruction on March 23. With that in mind, you will be receiving a follow-up email with instructions on how to respond to a Navigate Progress Report Campaign toward the goal of successful course completion.
We have instituted an interim grade policy for undergraduate students. The graphic below was shared with undergraduate students following the announcement of the change to help them make the best academic decision at the end of the semester.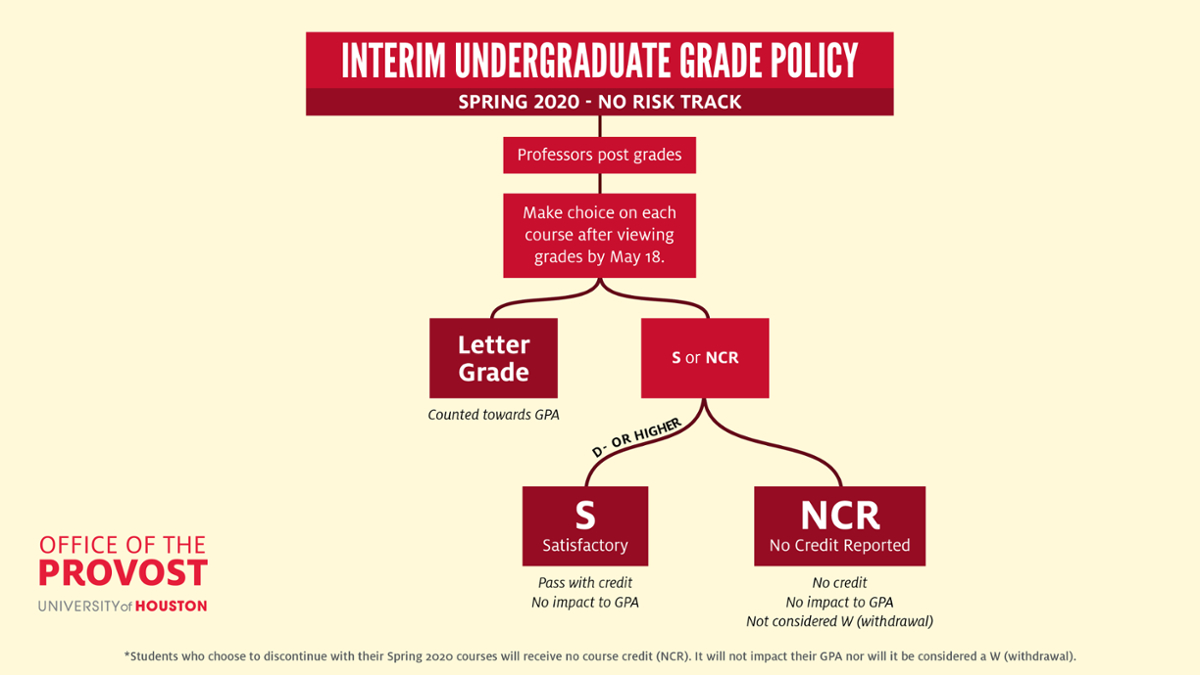 Graduate and Professional Students
A similar interim grade policy is in effect for graduate and professional students. In addition, to assist students who are graduating this semester and are currently working to complete their thesis or dissertation, the deadline for final submission has been extended to May 22, 2020.

On March 18, deans and department chairs received an email providing initial guidance concerning the process for requesting an extension of the probationary period due to the current situation. Guidelines on extension of the probationary period due the impact of COVID-19 will apply to both tenure track (TT) and promotion-eligible non tenure track (NTT) faculty members.
Faculty members may request an extension based on the negative impact of the current COVID-19 situation on their timely progression toward promotion and/or tenure under existing provisions in the current P&T and NTT policies for "Extension of the Probationary Period for Emergencies." Extension requests related to the negative impact of COVID-19 on their timely progression toward promotion and/or tenure may be made by a faculty member at any time during their probationary period up until March 1 of the year in which the mandatory review is scheduled. For those faculty members currently scheduled for mandatory review beginning in fall 2020, the March 1, 2020 deadline for the Provost to review such requests has been extended until May 31, 2020.
Current policy allows up to two, one-year extensions of the probationary period for birth or adoption of a child. Faculty members who have already received two previous extensions for birth or adoption of a child may request an additional extension based on the negative impact of the current COVID-19 situation on their timely progress toward promotion and/or tenure.
Forthcoming annual updates to the P&T and NTT policies for the 2020-2021 review cycle will be issued by May 1 and explicitly reflect the above accommodations.
Student Course Evaluation Committee
I have appointed a committee charged with developing an interim policy on student course evaluations. Faculty Senate President Jeronimo Cortina is serving as the chair. The committee is developing an interim policy which acknowledges the impact of the COVID-19 pandemic on faculty instruction and educational practice. It will provide recommendations to me on the most appropriate role student course evaluations should play in assessing student learning and faculty instructional effectiveness during the disruption caused by COVID-19. The interim policy will be implemented within the next two weeks and will apply to all classes taught during the spring and summer 2020 semesters.
The current membership of the committee is: Dr. Vallabh Das (Faculty Senate President-Elect), Dr. Susie Gronseth (Faculty Senate Secretary, EDU), Dr. Jason Draper (Faculty Affairs Committee, HRM), Dr. David Shattuck (Undergraduate Committee, ENG), Dr. Rheeda Walker (CLASS/PSYCH), and Ms. Nia Soherta (MEC, Office of the Provost).

Below are several dates for Virtual Office Hours to answer any specific questions you may have on the topics covered in this email. A link to join these virtual sessions can be found on the Office of the Provost COVID-19 Resource webpage.
Requesting an Extension to Probationary Period: April 9, 9:00 - 10:00 a.m. (TEAMS), and April 10, 3:00 - 4:00 p.m. (ZOOM)
Interim Student Course Evaluation Policy: April 9, 3:00 - 4:00 p.m. (ZOOM), and April 10, 9:00 - 10:00 a.m. (TEAMS)
Interim Undergraduate Student Grade Policy: April 9, 2:00 - 3:00 p.m. (TEAMS), and April 10, 11 a.m. - 12:00 p.m. (ZOOM)
Interim Graduate and Professional Student Grade Policy: April 9, 1:00 - 2:00 p.m. (ZOOM), and April 10, 10:00 - 11:00 a.m. (TEAMS)
Most importantly, I want to be certain that you continue to access all the resources our University offers to ensure your emotional and physical well-being during this crisis. Our commitment to the University of Houston to enhance human knowledge, to discover new solutions to our world's challenges, to be relevant to our city and our communities, and to ensure the success of our students, will outlast our current situation.
Thank you for your continued patience and leadership. Please reach out to me at provost@uh.edu for additional support, questions, or suggestions. Please continue to stay safe and healthy.
Kindest regards,