Carl Lewis to Address UH Class of 2020
He is an Olympian, ambassador, role model, coach, "Athlete of the Century", UH alumnus and activist. Carl Lewis is all of this and so much more. Join us on Thursday, December 17 at 7:00 p.m. at the virtual University-Wide Commencement ceremony as he addresses the UH Class of 2020. Sharing his wealth of life experiences, the opportunity to hear Mr. Lewis speak will be one to remember.

To find out more about Carl Lewis,
visit www.uh.edu/commencement
Social Media
You have an opportunity to be part of a montage of graduate photos is being created to precede the start of the virtual University-Wide Commencement ceremony. The deadline to submit photos is Monday, December 14 at noon. Click on the following link:
Your UH account is valid for a year after graduation. If you are a Spring or Summer 2020 graduate and having problems signing in, you may need to reset your password. It will only prompt you to sign in within the browser if you are not already signed in. If you have another Microsoft account (including Skype, another school account or work account) you might be signed in as that user. We recommend you go to https:// login.microsoft.com. If you don't get prompted to sign in, you should look for your profile in the very top right corner. Click on that and select Sign Out. Once you sign out, come back to the form and you should be prompted to sign in with your @cougarnet.uh.edu account.
Grad Photo Ops
We are finalizing the last details for the Grad Photo Ops which will run from Monday, December 14 to Saturday, December 19, from 10:00 a.m. to 5:00 p.m. All three locations will have a festive combination of banners, balloons and colorful signage. We have attached a map of the locations again for your convenience (see next page). No appointments are necessary, but please remember to wear your masks and practice social distancing. So grab your camera and someone to take photos for you and come have some fun.
Visitor parking is available in the adjacent Welcome Center garage. Rates can be found here: https://uh.edu/ af-university-services/parking/parking-on-campus/visitor/rates.php. Please remember that parking, even temporarily, in a marked fire lane is prohibited at all times.
Final Words
We'll have a couple more Grad Chronicles coming your way. If you haven't already done so, be sure to visit the Commencement website – www.uh.edu/commencement – as this will be where you can find the Commencement ceremony details, graduation celebration schedules, ceremony links and other information. If you have questions, please contact director@uh.edu. Until next time!
The Grad Squad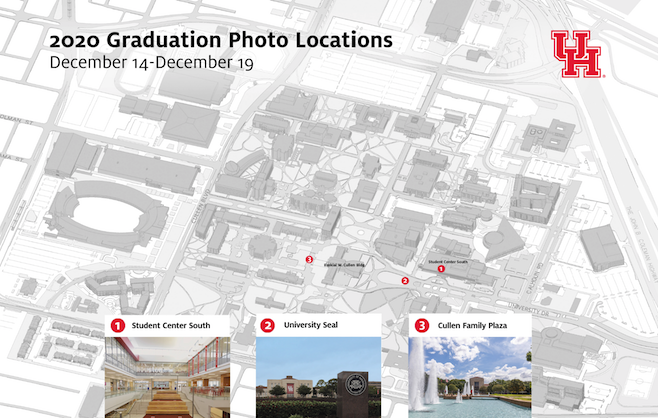 Please remember to wear your masks and practice social distancing.
---
Tonja A. Jones
Executive Director
University of Houston
Office of Protocol and Special Events
4302 University Drive, Suite 111
Houston, TX 77204-2025
Phone: 713.743.8838 │ Mobile: 281.788.0372 │ Fax: 713.743.8167
E-mail: tajones@uh.edu
www.uh.edu/special-events