UH Researcher Reports the Way Sickle Cells Form May be Key to Stopping Them
Associate professor of chemistry, Vassiliy Lubchenko, is reporting a new finding in Nature Communications on how sickle cells are formed.

Preventing the formation of mesoscopic clusters in blood cells may be one way to prevent sickle cell disease, which affects about 100,000 Americans, mostly African American and Hispanics.

Read more >
The Society of Petroleum Engineers (SPE) has chosen to honor Ganesh Thakur, distinguished professor of petroleum engineering and a member of the National Academy of Engineering, with a 2019 Honorary Membership.
The Rare Book School (RBS) selected Natilee Harren, assistant professor of art history, to join the Andrew W. Mellon Society of Fellows in Critical Bibliography (SoFCB). She is one of only 10 junior fellows selected from applicants across the country for the 2019 – 2021 fellowship.
Erin Miller, who graduated in 2018, is the recipient of a highly prestigious National Science Foundation Graduate Research Fellowship (NSF GRF). This award will fund Miller's research on how barrier island systems respond to hurricanes and sea level rise.
June 28: UT Austin Computing Tour
1:30 p.m.-5 p.m.
The Advanced Computing Building (ACB) - 10100 Burnet Rd., Austin, TX 78758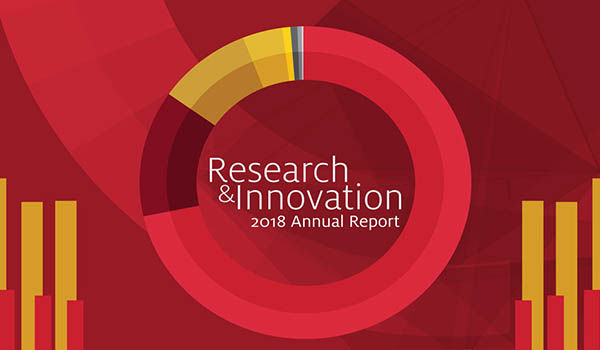 The UH Research & Innovation report is a comprehensive overview of the collective and individual research and commercialization outcomes achieved by the UH community. The report highlights major institutional initiatives as well as statistical data that captures performance across UH's enterprise.

View Report
Startup Pains: What I Wish I Knew
Startup Pains is a monthly talk given by entrepreneurs who share their journey of launching a company and overcoming unanticipated obstacles in order to find success in their industry. The experience and insights of these business leaders are valuable for people contemplating entrepreneurship, giving them a chance to learn now what the speakers wish they knew then.

July's Speaker is Carlos Genty, CEO & CTO of Critical X Solutions

RSVP
View past announcements on the Division of Research website.
HANDBOOK OF RESEARCH ON TEACHERS OF COLOR
PI/Department: Conra D. Gist, Curriculum & Instruction
Sponsor: Gates Foundation
Amount: $202,500
---
A NEW APPROACH FOR ISOLATING LEUKOCYTE SUB-POPULATIONS TO ENABLE EFFICIENT MANUFACTURING OF CELLULAR THERAPIES
PI/Department: Sergey Shevkoplyas, Biomedical Engineering
Sponsor: Halcyon Biomedical Inc flow thru from National Science Foundation
Amount: $67,467
---
MAXIMIZING THE ENVIRONMENTAL AND HEALTH BENEFITS OF CLEAN COOKING IN URBAN NEPAL
PI/Department: Omprakash D. Gnawali, Computer Science
Sponsor: United Nations Foundation
Amount: $19,323
---
PREDICTIVE BIOMARKERS AND NOVEL THERAPIES FOR HIGH-RISK PEDIATRIC LIVER CANCERS
PI/Department: Preethi H. Gunaratne, Biology & Biochemistry
Sponsor: Baylor College of Medicine flow thru from Cancer Prevention and Research Institute of Texas
Amount: $8,268
---
COLLABORATIVE RESEARCH ON LEAD BATTERY SCIENCE
PI/Department: Stanko Brankovic, Electrical Engineering
Sponsor: University of Chicago - Argonne National Laboratory flow thru from U.S. Department of Energy- Chicago Operations Office
Amount: $82,236
---
SOCIAL MOTION SKILLS PROGRAM EVALUATION RESEARCH STUDY
PI/Department: Sarah Stanford Mire, Psychological, Health & Learning Sciences
CO-PI/Department: Jorge E. Gonzalez, Psychological, Health & Learning Sciences
Sponsor: Social Motion Skills
Amount: $24,179
Featured Funding Opportunities
Funding Agency: Department of Defense
Title: "Health Services Research (HSR)"
Internal Deadline: 7/5/19
LOI Deadline: 7/12/19
Application Deadline: 8/23/19
The Health Services Research Initiative, established in FY 2019, provides intramural and extramural HSR in topic areas directed by the Office of the Assistant Secretary of Defense for Health Affairs (OASD (HA)). The intent of this initiative is to foster HSR capability within the Military Health System (MHS) by fostering research that supports the transition to an integrated health system focused on the quadruple aim - improved health readiness, better health, better care, and lower cost. Limited Submission Applications are submitted through this Sharepoint site.
Funding Agency: AHRQ
Title: "Making Health care Safer in Ambulatory Care Settings and Long Term Care Facilities (R18)"
Application Deadline: 9/25/19
This Funding Opportunity Announcement (FOA) will fund large research demonstration and implementation projects that pertain to ambulatory care settings and long term care facilities with a focus on implementing evidence-based processes to improve patient safety, especially those involving transitions in care. AHRQ is interested in studies in these two settings that develop, utilize, and evaluate strategies to implement existing measures, metrics, tools or practices that have already been validated and have been shown to be efficacious in improving patient safety sites.
Funding Agency: NHLBI
Title: "New Epidemiology Cohort Studies in Heart, Lung, Blood and Sleep Diseases and Disorders (U01 – Clinical Trial Not Allowed)"
Application Deadline: 06/05/20
The purpose of this Funding Opportunity Announcement (FOA) is to support new and innovative epidemiology research in heart, lung, blood, and/or sleep diseases, disorders, and/or phenotypes. Through this FOA, the National Heart, Lung, and Blood Institute (NHLBI) aims to establish a new epidemiology cohort of at least 2000 participants to stimulate research on a wide range of heart, lung, blood, and/or sleep research hypotheses.
Funding Agency: NASA
Title: "ROSES 2019: Living With a Star Science"
Pre-Application Deadline: 12/5/19
Application Deadline: 2/27/20
The Living With a Star (LWS) Program emphasizes the science necessary to understand those aspects of the Sun and Earth's space environment that affect life and society. The ultimate goal of the LWS Program is to provide a scientific understanding of the system that leads to predictive capability of the space environment conditions at Earth, other planetary systems, and in the interplanetary medium.

The LWS program objectives are as follows: 1. Understand how the Sun varies and what drives solar variability. 2. Understand how the Earth and planetary systems respond to dynamic external and internal drivers. 3. Understand how and in what ways dynamic space environments affect human and robotic exploration activities.
Funding Agency: DHS
Title: "ERBC NOFO"
Application Deadline: 7/29/19
Applicants are encouraged to develop proposals to help DHS S&T to build this community to bridge the divide between government and commercial industry. A successful Community for Engineering Biology Research proposal will: - Include academic and industrial contacts and stakeholders from a range of biotechnology sectors, including commercial companies, educators, government agencies, and community leaders. - Demonstrate awareness of leading-edge advancements in synthetic biology. - Develop or access roadmaps by which gaps in technology and policy can be closed, with an eye to both government and commercial levers to close those gaps.
Funding Agency: MSD
Title: "Merck Investigator Studies Program (MISP)"
Application Deadline: Continuous
This program consists of committees of medical and scientific staff from different therapeutic areas who meet regularly to review Merck investigator study proposals. Support is provided based on the scientific merit of the proposal as well as whether it is in alignment with the published areas of interest. Information related to areas of interest and requirements for submission can be found by clicking on the appropriate link for your therapeutic area. The current MISP areas supported are: Endocrinology, Infectious Disease, Neuroscience, Oncology, Patient Engagement, Diversity and Health Literacy, Respiratory, Surgery, Vaccines, and Women's Health
Funding Agency: National Institutes of Health
Title: "Countermeasures Against Chemical Threats (CounterACT) Research Centers of Excellence (U24 Clinical Trial Optional)"
Application Deadline: 9/10/19
This Funding Opportunity Announcement (FOA) encourages applications for Countermeasures Against Chemical Threats (CounterACT) Research Centers of Excellence (U54s). The mission of the CounterACT program is to foster and support research and development of new and improved therapeutics for chemical threats. Chemical threats are toxic chemicals that could be used in a terrorist attack or accidentally released from industrial production, storage or shipping. They include traditional chemical warfare agents, toxic industrial chemicals, pharmaceutical-based agents, and pesticides.

The scope of the research includes target and candidate identification and characterization, through candidate optimization and demonstration of in vivo efficacy consistent with the product's intended use in humans. For applicants submitting U54 renewal applications, research under this FOA should culminate in an optimized lead compound ready for advanced development. The Centers will contain at least three research projects supported by an administrative core, up to three optional scientific cores, and a research education core. Each research project must include milestones that create discrete go or no-go decision points in a progressive translational study plan.
Funding Agency: Association for Women in Slavic Studies (AWSS)
Title:"Outstanding Achievement Award"
Nomination Deadline:9/1/19
This award recognizes the accomplishments of established leaders in the field of Slavic, East European and Eurasian women's and gender studies. Their contributions have broken new ground in the discipline and laid the groundwork for others. The 2019 award recognizes the work of a scholar in the field of Slavic, East European, and Eurasian Studies who has also served as a mentor in this field to students/colleagues who identify as female.
Funding Agency: National Foundation for the Arts and the Humanities
Title: "Public Humanities Projects"
Optional Draft Application Deadline: 7/3/19
Application Deadline: 8/14/19
The Public Humanities Projects program supports projects that bring the ideas and insights of the humanities to life for general audiences through in-person programming. Projects must engage humanities scholarship to analyze significant themes in disciplines such as history, literature, ethics, and art history. This program supports projects in three categories: Exhibitions (permanent, temporary, or traveling); interpretive programs at Historic Places; and Humanities Discussions related to the 250th anniversary of the nation's founding.
Funding Agency: Department of Education
Title: "Promoting Postbaccalaureate Opportunities for Hispanic Americans"
Internal Deadline: 7/5/19
Application Deadline: 7/26/19
The purposes of the PPOHA Program are to: (1) Expand postbaccalaureate educational opportunities for, and improve the academic attainment of, Hispanic students; and (2) expand the postbaccalaureate academic offerings, as well as enhance the program quality, in the institutions of higher education (IHEs) that are educating the majority of Hispanic college students and helping large numbers of Hispanic and low income students complete postsecondary degrees. Limited Submission Applications are submitted through this Sharepoint site.
For more information about available grants, visit our Pivot system or Grants.gov.