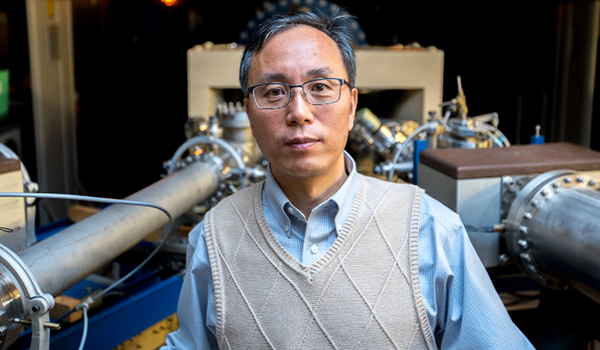 Researchers Explain Visible Light from 2D Lead Halide Perovskites
Jiming Bao, associate professor of electrical and computer engineering, led an international group of researchers investigating how a two-dimensional perovskite composed of cesium, lead and bromine was able to emit a strong green light.

The researchers said the new understanding of the light emission will yield new opportunities to design and fabricate novel optoelectronic devices.

Read more >
Physicist Zhifeng Ren, director of the Texas Center for Superconductivity at the University of Houston, led a project to resolve the problem of asymmetrical thermoelectric performance.
Dan Graur, Moores Professor in the Department of Biology & Biochemistry, received the University of Texas MD Anderson Cancer Center UTHealth Graduate School of Biomedical Sciences Distinguished Alumnus Award for 2018-2019.
Ashley Ramclam's research reveals that ethnic minority students are less likely to receive an autism diagnosis, and are often misdiagnosed as having an emotional disturbance or behaviorally challenged.
June 28: UT Austin Computing Tour
1:30 p.m.-5 p.m.
The Advanced Computing Building (ACB) - 10100 Burnet Rd., Austin, TX 78758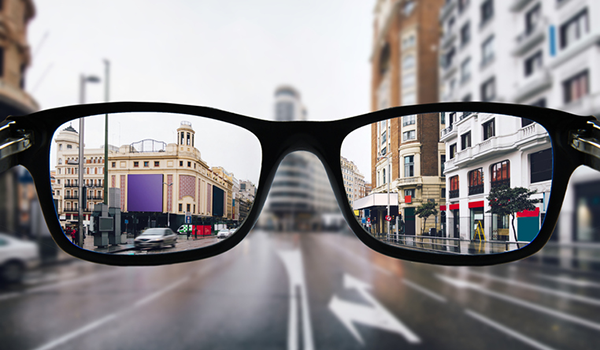 Are you 45-65 years old and having a hard time seeing up close?
The UH College of Optometry was recently awarded a $130k grant from Novartis to study a new eye drop, which may help improve near vision for patients with presbyopia (nearsightedness). Participants may receive up to $320 for their time.

Read More |ClinicalTrials.gov
UH's Animal Care Operations Receives Full Accreditation from AAALAC
In March of 2019, the Association for Assessment and Accreditation of Laboratory Animal Care (AAALAC) visited UH's Animal Care Operations for two days to inspect animal housing/surgical facilities and research labs.

The Division of Research is pleased to announce that the animal research program at the University of Houston has received continued full accreditation through AAALAC International!

Read More
NSF-approved Biographical Sketch Format
Please be advised that the National Science Foundation (NSF) has designated the National Institutes of Health's SciENcv (Science Experts Network Curriculum Vitae) as an NSF-approved format for submission of biographical sketch(es) and is encouraging its use to prepare a biographical sketch for inclusion in proposals to NSF.

Read More
GrantForward Deployment at UH
GrantForward seamlessly combines ease-of-use with powerful search features to enable you to easily narrow down thousands of options to the opportunities that provide an exact fit for your research.

Trainings are available to the Departments. Please contact Marianne Burns to set up a training.
View past announcements on the Division of Research website.
3D IMAGING OF TUMOR MECHANOBIOLOGY USING NANOBOMB OPTICAL COHERENCE
PI/Department: Kirill Larin, Biomedical Engineering
CO-PI/Department: Salavat Aglyamov, Mechanical Engineering
Sponsor: University of Texas MD Anderson Cancer Center flow thru from National Cancer Center
Amount: $160,529
---
DEVELOPMENT OF NOVEL ADJUVANTS LTA AND LTA1
PI/Department: Therese A. Kosten, Psychology
CO-PI/Department: Gregory D. Cuny, Pharmacological & Pharmaceutical Sciences
CO-PI/Department: Colin Nichols Haile, TIMES
Sponsor: Tulane University flow thru from National Institute of Allergy and Infectious Diseases
Amount: $145,350
---
ENHANCE FULL-WAVEFORM INVERSION WITH MACHINE LEARNED LOW-FREQUENCY SIGNALS
PI/Department: Xuqing Wu, I LT.
CO-PI/Department: Jiefu Chen, Electrical Engineering
Sponsor: Advanced Geophysical Technology flow thru from U.S. Department of Energy
Amount: $90,000
---
Improve STO Export from BKV By Reducing Process Variation Lean Six Sigma Applied Research Project
PI/Department: Jamison Kovach, Construction Management
Sponsor: SABIC Innovative Plastics US LLC
Amount: $46,085
---
COUGRS: Career Opportunities for Undergraduate Researchers
PI/Department: Rheeda Lynette Walker-Obasi, Psychology
CO-PI/Department: Steven Paul Woods, Psychology
Sponsor: American Psychological Association
Amount: $20,472
---
IPA FOR LEANNE ATWATER (EVALUATION OF VA QUALITY SCHOLARS LEARNING HEALTHCARE IMPROVEMENT COURSE)
PI/Department: Leanne E. Atwater, Management Department
Sponsor: Michael E. DeBakey Veterans Affairs Medical Center in Houston
Amount: $7,500
Rho Associated Kinase (Rock) Inhibitors and Their Use in Treating Disease
Inventors: Robert Schwartz, Hua Zhang, John Craft, Scott Gilbertson, Kevin MacKenzie, Reza Abbasgholizadeh, Steven Bark, James M. Briggs, Robert Fox
Department: Biology/Biochemistry
Date Issued: July 7, 2019
Patent Number: 10,335,449
---
Accommodation Stimulation and Recording Device
Inventors: Adrian Glasser
Department: Optometry
Date Issued: June 25, 2019
Patent Number: 10,328,261
Featured Funding Opportunities
Funding Agency: Department of Defense
Title: "DoD JPC8/CRMRP Regenerative Medicine Focused Research Award (AFIRM III)"
Pre-Application Deadline: 8/7/19
Application Deadline: 11/20/19
As part of the JPC-8/CRMRP, its regenerative medicine portfolio supports research aimed at providing solutions to repair, reconstruct, or regenerate tissue lost or damaged due to traumatic injury, particularly tissues of the extremities and craniomaxillofacial compartment.

Regenerative medicine encompasses multiple approaches (engineered/synthetic, pharmacologic, biologic, and combinatorial) to the treatment of damaged tissues by using therapies that promote the self-regenerative capacity of the body. To address this effort, the JPC-8/CRMRP is offering the Regenerative Medicine Focused Research Award (RMFRA) as its next iteration of the Armed Forces Institute of Regenerative Medicine, AFIRM III, in FY19 to continue its effort to support the development of regenerative medicine solutions.
Funding Agency: American Pharmacists Association
Title: "APhA Awards and Honors Program"
Nomination Deadline: 9/1/19
The APhA Awards and Honors Program is the profession's most comprehensive recognition program. Over the years, APhA has recognized numerous individuals, organizations and schools/colleges of pharmacy for their contributions to advancing the profession of pharmacy. Through its awards program, APhA believes it can stimulate research, practice innovations, quality publications and leadership development that will improve medication use and advance patient care.
Funding Agency: Alfred P. Sloan Foundation
Title: "Chemistry of Indoor Environments"
Application Deadline: Continuous
The program makes grants to achieve a series of interrelated goals.
Generate new knowledge by directly supporting original, high-quality research to identify indoor chemical sources, characterize the chemical and physical transformations taking place indoors, and determine how indoor chemistry is shaped by building attributes and occupancy.
Develop a modeling consortium to improve the cohesiveness of the community and its ability to integrate findings.
Build a thriving, multidisciplinary research community of chemists; environmental, civil, and mechanical engineers; architects; atmospheric scientists; microbiologists; and environmental health experts that will endure beyond the program's timeline.
Train the next generation of scholars and practitioners. An important component of this program is introducing new voices into the field and training the next generation of researchers.
Develop community-wide research protocols, and norms.
Advance capacity for discovery through development of new tools for data collection, sampling, analysis, and visualization.
Funding Agency: Department of Defense
Title: "Defense Sciences Office (DSO) Office-Wide"
Application Deadline: 6/12/20
The mission of the Defense Advanced Research Projects Agency (DARPA) Defense Sciences Office (DSO) is to identify and create the next generation of scientific discovery by pursuing high-risk, high-payoff research initiatives across a broad spectrum of science and engineering disciplines and transforming these initiatives into disruptive technologies for U.S. national security. In support of this mission, the DSO Office-wide BAA invites proposers to submit innovative basic or applied research concepts that address one or more of the following technical domains:

(1) Frontiers in Math, Computation and Design, (2) Limits of Sensing and Sensors, (3) Complex Social Systems, and (4) Anticipating Surprise. Each of these domains is described below and includes a list of example research topics that highlight several (but not all) potential areas of interest. Proposals must investigate innovative approaches that enable revolutionary advances. DSO is explicitly not interested in approaches or technologies that primarily result in evolutionary improvements to the existing state of practice.
Funding Agency: Department of Defense
Title: "Composite Airframe Life Extension (CALE)"
Application Deadline: 10/10/20
The CALE initiative technology will be selected and developed to accomplish three mutually supportive Technical Goals as follows:
Technical Goal 1: Increased use of progressive damage failure analysis methods for composite structures to predict the initiation and progression of damage in composite structures, coupled to damage tolerant design approaches for composite structures.
Technical Goal 2: More accurately predict the service life of composite airframe structures, including predicting residual strength as a function of age, environment, and service usage.
Technical Goal 3: Reduce reliance on empirical data and empirical testing during the design, development, and airworthiness verification of composite airframe structures, and reduce the scope, expense, time and risk of structural building block programs to ensure transition of advanced structural concepts.
Funding Agency: Department of Education
Title: "Electric Grid of Things"
Deadline: 9/9/19
The objective of this FOA is to conceive and develop scenarios, approaches, methodologies, tools, techniques and systems that maximize the bi-directional exchange of grid services while optimizing connectivity and information exchange at the grid edge to Internet of Things (IoT) interface that leads to enhanced system resilience and reliability.

These advancements must be applicable to the scenario of maintaining energy surety to defense installations, where coordination between defense facilities, the utility, and surrounding Distributed Energy Resources(DER) can extend the functioning of those facilities through abnormal events.
Funding Agency: Department of Justice
Title: "Transforming America's Response to Elder Abuse: Mobilizing Attorneys for Older Victims of Abuse & Financial Exploitation"
Internal Deadline: 7/1/19
Application Deadline: 7/15/19
The U.S. Department of Justice (DOJ), Office of Justice Programs (OJP), Office for Victims of Crime (OVC), is seeking applications for funding to increase legal assistance for older victims of crime. This program furthers OVC's mission to extend victims' rights and legal services to older victims. This program furthers the Department's mission to provide a comprehensive response to older victims of crime. Limited Submission Applications are submitted through this Sharepoint site.
Funding Agency: Department of Justice
Title:"Longitudinal Research on Delinquency and Crime"
Application Deadline: 8/13/19
The Longitudinal Research on Delinquency and Crime solicitation is intended to support the expansion or extension of one or more ongoing/existing longitudinal research studies that focus on delinquency and crime throughout the life-course, which may include childhood, adolescence, and young adulthood. Applicants are encouraged to adopt a holistic approach to the study of child and adolescent development and the emergence, persistence, and desistance of delinquent and criminal offending.

The research findings are intended to identify malleable risk and protective factors, which can be effectively targeted in efforts to prevent the onset of delinquency and to intervene in the lives of juvenile and young adult offenders. This solicitation supports the U.S. Department of Justice strategic goal to reduce violent crime and promote public safety.
Funding Agency: Department of Labor
Title: "National Policy Development Center for Preparing Youth and Young Adults with Disabilities for Employment"
Deadline: 7/23/19
This FOA solicits innovative applications to improve the capacity within and across both general and disability-specific youth service delivery systems to improve employment and post-secondary education outcomes for youth and young adults with disabilities.

Applicants are encouraged to think broadly about recent changes in national and state policy such as the implementation of Workforce Innovation and Opportunity Act, reauthorization of the Perkins Act, efforts to modernize the national apprenticeship system, and passage of the First Step Act as they consider new, strategic ways to remove barriers and promote access to employment for youth and young adults with disabilities.
Funding Agency: Department of Labor
Title:"Equal Access to Quality Jobs for Women and Girls (EQUAL)"
Deadline:8/26/19
ILAB leads the U.S. Government's (USG) efforts to improve working conditions and fight labor exploitation around the world. ILAB's mission is to promote a fair global playing field for workers in the United States and around the world by enforcing trade commitments, strengthening labor standards, and combating international child labor, forced labor, and human trafficking. ILAB's Office of Child Labor, Forced Labor and Human Trafficking (OCFT) works to eliminate child labor, forced labor and human trafficking through international research, policy engagement, and technical cooperation.
Funding Agency: Department of Health and Human Services
Title: "Disability and Rehabilitation Research Projects (DRRP) Program: Independent Living Transition Services for Youth and Young Adults with Significant Disabilities from Minority Backgrounds"
LOI Deadline: 7/24/19
Deadline: 8/19/19
The purpose of NIDILRR's DRRPs, which are funded through the Disability and Rehabilitation Research Projects and Centers Program, is to improve the effectiveness of services authorized under the Rehabilitation Act by developing methods, procedures, and rehabilitation technologies that advance a wide range of independent living, employment, and health and function outcomes for individuals with disabilities, especially individuals with the most significant disabilities.

Under this particular DRRP priority, grantees must contribute to the evidence base for CILs' provision of effective services to help youth with significant disabilities -- particularly those from racial and ethnic minority backgrounds -- transition to post-secondary life.
Funding Agency: Department of Education
Title: "Institute of Education Sciences (IES): Education Research and Development Centers"
Deadline: 9/26/19
In awarding these grants, the Institute of Education Sciences (Institute) intends to provide national leadership in expanding knowledge and understanding of (1) developmental and school readiness outcomes for infants and toddlers with or at risk for a disability, (2) education outcomes for all learners from early childhood education through postsecondary and adult education, and (3) employment and wage outcomes when relevant (such as for those engaged in career and technical, postsecondary, or adult education). Under this competition, NCER will consider only applications that address one of the following topics:
Improving Opportunities and Achievement for English Learners in Secondary School Settings.
Improving Teaching and Learning in Postsecondary Institutions.
Improving Access, Instruction, and Outcomes in Gifted Education.
For more information about available grants, visit our Pivot system or Grants.gov.