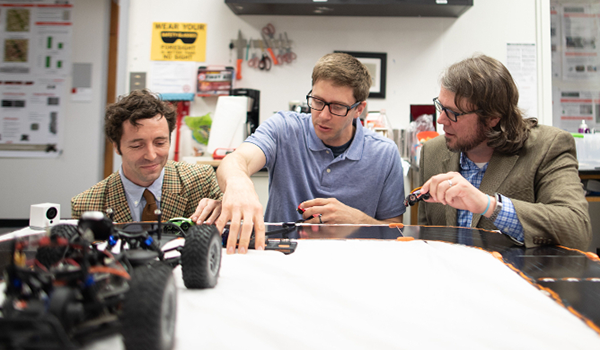 Could Robots Make a Documentary about a 5K Race?
A project led by Aaron T. Becker, assistant professor of electrical and computer engineering at the University of Houston, will study how to direct a team of mobile robots to document a race, predicting likely events and changing plans based on real-time action.

He will collaborate with Dylan Shell, associate professor of computer science and engineering at Texas A&M University, and Jason O'Kane, professor of engineering and computing at the University of South Carolina, on the project, which is funded by a $600,000 grant from the National Science Foundation.
Read more >
Solid-state sodium-ion batteries are far safer than conventional lithium-ion batteries, which pose a risk of fire and explosions, but their performance has been too weak to offset the safety advantages. Researchers Friday reported developing an organic cathode that dramatically improves both stability and energy density.
Two Cullen College of Engineering faculty won the University of Houston's Awards for Excellence in Research, Scholarship and Creative Activity for the 2018-19 academic year. Hadi Ghasemi was recognized in the "Assistant Professor" category and Peter Vekilov was honored in the "Professor" category.
Ujwal Patil, a Ph.D. student in biochemistry, was a finalist for the 2018 MilliporeSigma Life Science Award in Bioseparations. Patil develops methods for purifying therapeutically useful proteins, such as antibodies used in immunotherapies.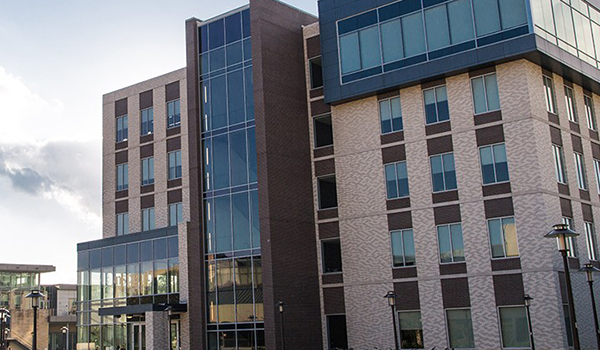 HPE Data Science Institute Training:
Hands-on demo on high performance 3D Data Visualization using ParaView
ParaView is an open-source, multi-platform data analysis and visualization application. ParaView users can quickly build visualizations to analyze their data using qualitative and quantitative techniques.

In this hands-on presentation we will use ParaView to explore a CT scan of someone's head -as it is typically done in medical industry imaging facilities- and also draw wind lines on a computational fluid dynamics simulation sample data to do a popular wind tunnel analysis for turbines.
Read more
Startup Pains April: Alzeca Biosciences and the Fight Against Alzheimer's
On Thursday, April 11, Jason Eriksen, Ph.D., associate professor of pharmacology and chair and co-founder of Alzeca Biosciences, gave a riveting presentation to a room of professionals, grad students, and entrepreneurs at the monthly Startup Pains event at Technology Bridge.

Eriksen spoke in great detail about his tremendous work in Alzheimer's research and the business side of his startup, Alzeca Bio. Read more
View past announcements on the Division of Research website.
EQUITY IN PERINATAL HEALTH: A HEALTHY START INITIATIVE
PI/Department: McClain Sampson, Social Work
PI/Department: Reiko K. Boyd, Social Work
Sponsor: Health Resources and Services Administration
Amount: $4,870,000
---
STRUCTURAL AND MOLECULAR PHENOTYPING OF EMBRYONIC DEVELOPMENT THROUGH MULTI-MODAL OPTICAL IMAGING
PI/Department: David Matthew Mayerich, Electrical Engineering
CO-PI/Department: Kirill Larin, Biomedical Engineering
Sponsor: National Heart, Lung, and Blood Institute
Amount: $3,710,884
---
A BIOMARKER PANEL BASED SMART MINI-ARRAY SYSTEM FOR THE HOMECARE OF AUTOIMMUNE KIDNEY DISEASES
PI/Department: Tianfu Wu, Biomedical Engineering
Sponsor: National Institute on Aging
Amount: $2,212,894
---
CAREER: UNFOLDING EARTH HISTORY BACK TO THE MESOZOIC BY INCORPORATING SEISMIC TOMOGRAPHY INTO PACIFIC REALM PLATE TECTONIC RECONSTRUCTIONS
PI/Department: Jonathan En Lin Wu, Earth & Atmospheric Sciences
Sponsor: National Science Foundation
Amount: $568,310
---
LTER: GEORGIA COASTAL ECOSYSTEMS IV
PI/Department: Steven C. Pennings, Biology & Biochemistry
Sponsor: University of Georgia flow thru from National Science Foundation
Amount: $395,386
---
PHASE I MICROBIOME STUDIES OF ACX-362E
PI/Department: Kevin W. Garey, Pharmacy Practice & Translational Research
Sponsor: Acurx Pharmaceuticals
Amount: $278,829
---
SERIES OF DEVELOPMENT TASK TO ACHIEVE NUMERICAL MODELING AND INVERSION CAPABILITIES FOR DIRECTIONAL DRILLING APPLICATIONS
PI/Department: Ji Chen, Electrical Engineering
Sponsor: Halliburton Company
Amount: $80,000
---
A CENSUS OF YOUNG DRIVERS IN IOWA: ANALYSIS OF CITATIONS AND CONVICTIONS
PI/Department: Amaury Lendasse, I LT.
Sponsor: University of Iowa flow thru from National Highway Traffic Safety Administration
Amount: $18,451
Formation of P-Type Filled Skutterudite by Ball-Milling and Thermo-Mechanical Processing
Inventors: Qing Jie, Zhifeng Ren, Gang Chen
Department: Chemistry
Date Issued: May 7, 2019
Patent Number: 10,283,690
---
A Nonlinear Optical Material and Methods of Fabrication
Inventors: P. Shiv Halasyamani, Hongwei Yu
Department: Chemistry
Date Issued: May 7, 2019
Patent Number: 10,281,796
Featured Funding Opportunities
Funding Agency: HHS
Title: Minority Research Grant Program
Application Deadline: 6/17/19
The Centers for Medicare & Medicaid Services (CMS) Office of Minority Health (OMH) is announcing the availability of funds under the Minority Research Grant Program to test promising solutions that achieve health equity.

The purpose of the Grant Program is to support researchers investigating health processes, practices, behaviors, and burdens or issues that influence health equity and, in particular, address the social determinants of health. The Grant Program is an opportunity to support health disparities researchers at historically underserved Universities.
Funding Agency: HHS
Title: National Center for Community-Based Child Abuse Prevention
Application Deadline: 6/18/19
The purpose of this funding opportunity announcement is to establish by cooperative agreement a National Center for Community-Based Child Abuse Prevention (Center). The project will have a 60-month project period with five 12-month budget periods. The Center will be the primary provider of training and technical assistance to build the capacity of Community-Based Child Abuse Prevention (CBCAP) State Lead Agencies (SLAs), and their partners, to implement successful strategies that strengthen families and prevents child maltreatment.

The key focus of the Center will be to enhance the ability of SLAs to effectively implement the requirements of the program and support evidence-informed and evidence-based child maltreatment prevention programs and activities. The Center will facilitate lead agency efforts in the planning and development of a network of interdisciplinary community-based programs and activities designed to strengthen and support families to prevent child abuse and neglect. The Center will also promote stronger linkages between the CBCAP SLA and the child welfare, as well as other child and family systems.
Funding Agency: Department of Energy
Title: Advanced Natural Gas Infrastructure Technology Development
Concept Paper Deadline: 5/17/19
Application Deadline: 7/19/19
The objective of this Funding Opportunity Announcement is to solicit and competitively seek cost shared research applications for the development of tools, methods and/or technologies to cost effectively enhance the safety and efficiency of the nation's natural gas production, gathering, storage and transmission infrastructure. One area of research will focus on advanced equipment technologies pipeline materials, advanced coatings, sensors and controls to improve the operational efficiency and reliability of natural gas midstream infrastructure. The integration of these new materials and sensing technologies into the infrastructure will improve coordination between electric and natural gas transmission to allow real-time response.

The FOA will also target the development of technologies that can detect, identify, and eliminate pipeline defects to improve the safety and efficiency of pipeline operations, reduce the volumes of methane emitted by reducing routine operations-related emissions, and capture and utilize flared or vented natural gas. Reducing methane emissions enhances safety, reduces natural resource waste, and increases sales gas volume. Advancing all of these research objectives are important to achieving the goal of optimizing the performance of a critical part of the U.S. energy delivery system that is growing rapidly and that will become increasingly important into the future.
Funding Agency: Department of Energy
Title: Dark Matter New Initiatives
LOI Deadline: 4/30/19
Application Deadline: 5/30/19
The DOE SC program in High Energy Physics (HEP) hereby invites applications for new opportunities to develop the design and execution plans for small projects to carry out dark matter particle searches, making use of DOE laboratory infrastructure and/or technology capabilities. This FOA follows the recommendations of the Basic Research Needs (BRN) workshop for Dark Matter New Initiatives, which was held on October 15-18, 2018.

The U.S. particle physics community's current vision for the future is embodied in the Particle Physics Project Prioritization Panel (P5) report that presents a strategy for the next decade centered on five intertwined science drivers, including the search for dark matter particles. This FOA is for new opportunities to develop the design and execution plans for small projects to carry out dark matter particle searches, making use of DOE laboratory infrastructure and/or technology capabilities.
Funding Agency: USDA
Title: Food Safety Outreach Competitive Grant Program
Application Deadline: 6/6/19
The Food Safety Outreach Program will complement and expand the national infrastructure of the National Food Safety Training, Education, Extension, Outreach, and Technical Assistance Competitive Grants Program. The Food Safety Outreach Program will build upon that national infrastructure, with a sustained focus on delivery of customized training to members of the target audiences.

Awardees will develop and implement food safety training, education, extension, outreach and technical assistance projects that address the needs of owners and operators of small to mid-sized farms, beginning farmers, socially-disadvantaged farmers, small processors, or small fresh fruit and vegetable merchant wholesalers. Grant applications will be solicited directly from those in local communities to include those from community-based organizations, non-governmental organizations, food hubs, farm cooperatives, extension, and other local groups.
Funding Agency: Department of Energy
Title: Scientific Machine Learning and Artificial Intelligence: Uncertainty Quantification
LOI Deadline: 5/8/19
Application Deadline: 5/31/19
The principal focus of this FOA is on Uncertainty Quantification (UQ) for AI validation and prediction. Foundational research is needed for strengthening the mathematical and statistical basis of validating machine learning and AI predictions from data generated by the Office of Science's user facilities and scientific simulations. A critical open question for scientific machine learning (SciML) is: How do we make reliable predictions and uncertainty estimates from machine learning and AI models? Predictions can be greatly improved by including input uncertainties and insights from model discrepancies.

Research advances will be needed in methods that incorporate mathematical, statistical, scientific, and engineering principles for uncertainty estimates in extrapolative predictions. Furthermore, extensive literature in statistics can be leveraged for improving the model validation process. Advances in UQ will greatly enhance the mathematical and scientific computing foundations for accelerated research insights from SciML and AI.
Funding Agency: National Endowment for the Humanities
Title: Digital Projects for the Public
Application Deadline: 6/12/19
The National Endowment for the Humanities (NEH) Division of Public Programs is accepting applications for the Digital Projects for the Public Program. The purpose of this program is to support projects that interpret and analyze humanities content in primarily digital platforms and formats, such as websites, mobile applications and tours, interactive touch screens and kiosks, games, and virtual environments.
Funding Agency: National Endowment for the Humanities
Title: Digital Humanities Advancement Grants
Application Deadline: 6/19/19
Digital Humanities Advancement Grants (DHAG) support digital projects at different stages throughout their lifecycles, from early start-up phases through implementation and sustainability. Experimentation, reuse, and extensibility are hallmarks of this program, leading to innovative work that can scale to enhance scholarly research, teaching, and public programming in the humanities. This program is offered twice per year. Proposals are welcome for digital initiatives in any area of the humanities.

Through a special partnership with NEH and pending the availability of appropriated funds, the Institute of Museum and Library Services (IMLS) anticipates providing additional funding to this program to encourage innovative collaborations between museum or library professionals and humanities professionals to advance preservation of, access to, use of, and engagement with digital collections and services. IMLS and NEH may jointly fund some DHAG projects that involve collaborations with museums and/or libraries.

Digital Humanities Advancement Grants may involve •creating or enhancing experimental, computationally-based methods, techniques, or infrastructure that contribute to the humanities; •pursuing scholarship that examines the history, criticism, and philosophy of digital culture and its impact on society; or •conducting evaluative studies that investigate the practices and the impact of digital scholarship on research, pedagogy, scholarly communication, and public engagement.
Funding Agency: USDA
Title: Agriculture and Food Research Initiative - Education and Workforce Development
Application Deadline: Multiple deadlines; see RFA
The Agriculture and Food Research Initiative - Education and Workforce Development (EWD) focuses on developing the next generation of research, education, and extension professionals in the food and agricultural sciences. In FY 2019, EWD invites applications in five areas: professional development for agricultural literacy; training of undergraduate students in research and extension; fellowships for predoctoral candidates; fellowships for postdoctoral scholars, and a brand new program for agricultural workforce training.
For more information about available grants, visit our Pivot system or Grants.gov.