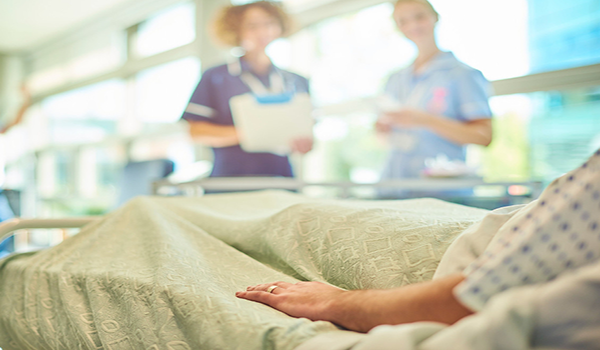 UH Engineers Apply Their Skills to Health Care
A collaboration between UH and the Harris Health System is aimed at easing bottlenecks for psychiatric patients in the emergency center. Shanna Doucet, director of Care Management and Innovation at Harris Health, said the public health system is interested in innovative thinking to improve patients' experiences.

"More hospitals are collaborating with engineers to look at how to streamline operations, how to be more efficient," she said. "There are more opportunities for engineers as we look at the human factors that are impacting how we operate."
Read more >
Mike Harold, M.D. Anderson Professor and chairman of the chemical and biomolecular engineering department at College of Engineering, recently won the 2019 Southwest Catalysis Society (SWCS) Award for Excellence in Applied Catalysis.
Soumaya El Barrak, a doctoral student from the University of Abdelmalek Essaadi, National School of Applied Sciences of Tangier (ENSA-Tanger) in Morocco, is visiting the University of Houston College of Technology as a Fulbright Scholar.
Jose Daniel Velazco-Garcia, a doctoral student, has been awarded a prestigious National Science Foundation Graduate Research Fellowship. Velazco-Garcia's current research focuses on the interactive immersion and on-the-fly control of medical imaging scanners.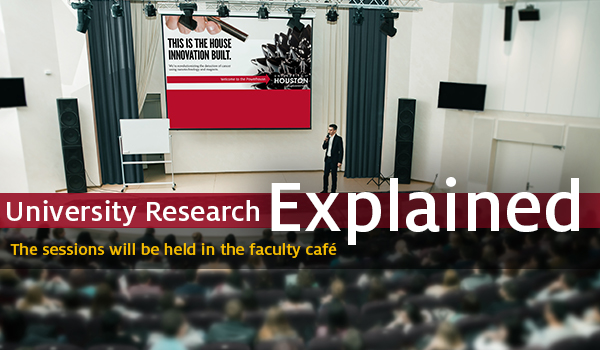 University Research Explained: Working with Industry
Please join us on Thursday, May 2 from 10 a.m. to 12 p.m. in the Faculty Cafe, for an informational session with Tom Campbell, Executive Director of the Office of Technology Transfer and Innovation.
Study on Deadline Stress of Faculty Call for Participation
The Computational Physiology Laboratory (CPL) at the University of Houston will be conducting a study about deadline stress in academic environments. Specifically, CPL aims to investigate how traits interact with tactics, behaviors, and stress levels in the days leading up to a proposal or paper deadline, as well as how these complex factor dynamics affect performance. For this study, CPL looks to recruit volunteer participants among the faculty population of the University of Houston – Main Campus. Read more
View past announcements on the Division of Research website.
NANOSTRUCTURED MEMBRANES FOR OIL-WATER SEPARATION
PI/Department: Alamgir Karim, Chemical Engineering
Sponsor: Qatar University flow thru from Qatar National Research Fund
Amount: $122,664
---
CAMP CODE FOR GIRLS
PI/Department: Barbara L. Stewart, Human Development and Consumer Sciences
CO-PI/Department: Marcella L. Norwood, Human Development and Consumer Sciences
CO-PI/Department: Carole Peterson Goodson, Human Development and Consumer Sciences
CO-PI/Department: Susan L. Miertschin, I LT
Sponsor: Texas Workforce Commission flow thru from Administration for Children and Families
Amount: $98,857
---
Measuring Academic Skill Development for Students with Autism Spectrum Disorder: Project ASD4ASD
PI/Department: Milena A. Margulis, Psychological, Health & Learning Sciences
CO-PI/Department: Sarah Stanford Mire, Psychological, Health & Learning Sciences
Sponsor: Spencer Foundation
Amount: $50,000
---
IDENTIFYING THE OPTIMAL EXERCISE INTERVENTION AND ITS MECHANISM DURING PANCREATIC CANCER TREATMENT
PI/Department: Emily Claire-Pyle LaVoy, Health and Human Performance
Sponsor: American College of Sports Medicine
Amount: $10,000
Featured Funding Opportunities
Funding Agency: Department of Defense
Title: Development of Quantum Algorithms
White Paper Deadline: 6/5/19
Proposal Deadline: 8/1/19
The U.S. Army Research Office (ARO) together with the National Security Agency (NSA) is soliciting proposals to develop new quantum computing algorithms for hard computational problems, develop insights into the power of quantum computation, and consider issues of quantum complexity and computability.

Proposals for research in quantum algorithms should primarily be to devise novel quantum algorithms for solving mathematically and computationally hard problems from such diverse fields as algebra, number theory, geometry, analysis, optimization, graph theory, differential equations, combinatorics, topology, logic, and simulation. Quantum algorithms that are developed should focus on constructive solutions for specific tasks and on general methodologies for expressing and analyzing algorithms tailored to specific problems. Complexity analysis such as upper and lower bounds on algorithms, including developing new methodologies for deriving such bounds, is encouraged.
Funding Agency: Department of Energy
Title: Nuclear Data Interagency Working Group / Research Program
LOI Deadline: 5/15/19
Application Deadline: 6/28/19
Accordingly, the purpose of the research program associated with this FOA is to support new activities (e.g. experiments, infrastructure, models, and so forth) that will provide new nuclear data or related predictions where needed in areas in which the existing data is inadequate or does not exist, and insure that the new data is transferred to the USNDP databases in a timely manner. Data generated from authorizations under this FOA must be made publicly available through the USNDP databases.
Funding Agency: National Science Foundation
Title: Physics Frontiers Centers (PFC)
Internal Deadline: 5/15/19
Preliminary Proposal Deadline: 8/1/19
Proposal Deadline: 1/30/20
The Physics Frontiers Centers (PFC) program supports university-based centers and institutes where the collective efforts of a larger group of individuals can enable transformational advances in the most promising research areas. The program is designed to foster major breakthroughs at the intellectual frontiers of physics by providing needed resources such as combinations of talents, skills, disciplines, and/or specialized infrastructure, not usually available to individual investigators or small groups, in an environment in which the collective efforts of the larger group can be shown to be seminal to promoting significant progress in the science and the education of students.

Activities supported through the program are in all sub-fields of physics within the purview of the Division of Physics: atomic, molecular, optical, plasma, elementary particle, nuclear, particle astro-, gravitational, and biological physics. Interdisciplinary projects at the interface between these physics areas and other disciplines and physics sub-fields may also be considered, although the bulk of the effort must fall within one of those areas within the purview of the Division of Physics.

The successful PFC activity will demonstrate: (1) the potential for a profound advance in physics; (2) creative, substantive activities aimed at enhancing education, diversity, and public outreach; (3) potential for broader impacts, e.g., impacts on other field(s) and benefits to society; (4) a synergy or value-added rationale that justifies a center- or institute-like approach. Limited Submission Applications are submitted through this Sharepoint site.
Funding Agency: NIST
Title: Measurement Science and Engineering (MSE) Research Grant Programs
Proposal Deadline: 5/31/19
NIST is soliciting applications for financial assistance for Fiscal Year 2019 (FY19) within the following NIST grant programs: Associate Director for Innovation and Industry Services (ADIIS); Associate Director for Laboratory Progams (ADLP); Communications Technology Laboratory (CTL); Engineering Laboratory (EL); Fire Research (FR); Information Technology Laboratory (ITL); International Academic Affairs Office (IAAO); Material Measurement Laboratory (MML); NIST Center for Neutron Research (NCNR); Physics Measurement Laboratory (PML); Special Programs Office (SPO); and Standards Coordination Office (SCO).
Funding Agency: National Science Foundation
Title: Computer and Information Science and Engineering (CISE) Research Initiation Initiative
Proposal Deadline: 8/14/19
The NSF Directorate for Computer and Information Science and Engineering (CISE) seeks to award grants intended to support research independence among early-career academicians who specifically lack access to adequate organizational or other resources. It is expected that funds obtained through this program will be used to support untenured faculty or research scientists (or equivalent) in their first three years in a primary academic position after the PhD, but not more than five years after completion of their PhD.

Applicants for this program may not yet have received any other grants or contracts in the PI role from any department, agency, or institution of the federal government, including from the CAREER program or any other program, post-PhD, regardless of the size of the grant or contract, with certain exceptions as noted below. Serving as co-PI, Senior Personnel, Postdoctoral Fellow, or other Fellow does not count against this eligibility rule.

Importantly, the CRII program seeks to provide essential resources to enable early-career PIs to launch their research careers. For the purposes of this program, CISE defines "essential resources" as those that (a) the PI does not otherwise have, including through organizational or other funding; and (b) are critical for the PI to conduct early-career research that will enable research independence. In particular, this program is not appropriate for PIs who already have access to resources to conduct any early-career research.
Funding Agency: Department of Energy
Title: Buildings Energy Efficiency Frontiers & Innovation Technologies (BENEFIT) – 2019
Concept Paper Deadline: 5/21/19
Application Deadline: 7/15/19
The 2019 Buildings Energy Efficiency Frontiers and Innovation Technologies Funding Opportunity Announcement will invest up to 47 million dollars, to allow all interested parties (universities, corporations, non-profits, national labs) to research and develop innovative technologies that will improve energy productivity, improve flexibility, security and resiliency, as well as lower energy costs. With this Funding Opportunity Announcement, Building Technologies Office intends to fund high-impact, early-stage research in the following three topic areas: Topic Area 1 - Flexible Building Technologies; Topic Area 2 - Heating, Ventilation and Air Conditioning Technologies; and Topic Area 3 - Solid-State Lighting Technologies.
Funding Agency: USDA
Title: Food and Agriculture Service Learning Program
Application Deadline: 6/4/19
The Food and Agriculture Service Learning Program is intended to increase the knowledge of agriculture and improve the nutritional health of children and to bring together stakeholders from the distinct parts of the food system to increase the capacity for food, garden, and nutrition education within host organizations or entities, such as school cafeterias and classrooms, while fostering higher levels of community engagement between farms and school systems. The initiative is part of a broader effort to not only increase access to school meals for low-income children, but also to dramatically improve their quality.
For more information about available grants, visit our Pivot system or Grants.gov.